The tour starts with pick-up from your hotels in Lima, visiting the most traditional residential areas of the capital: El Parque del Amor, a privileged spot to appreciate a spectacular view of the Pacific Ocean. You will have a panoramic view of the Huaca Pucllana, an archaeological site built in the 4th century AD. Then we will continue to el Olivar in the district of San Isidro. Then we will continue to the historic center of Lima. The Paseo de la República, Plaza San Martín and Plaza Mayor, with its distinctive buildings: Government Palace, the Archbishop's Palace, the Cathedral Basilica and the Municipal Palace
Finally we will visit the Convent of San Francisco, which has the largest sample of colonial religious art in America. Among its attractions are: The Coral Room and the Library of the Monks, the Sacristy, with their collection of linen cloths of Zurbarán and Rivera. We will walk in the Great Courtyard of the Main Cloister, finely decorated with Sevillian tiles from the 16th century with its beautiful Moorish arches and the underground crypts, known as the Catacombs, where you will feel the presence of the colonial past.
Continuing with our tour we will visit a beautiful colonial mansion containing the most important collections of gold, ceramics, textiles and art of pre-Columbian Peru (archaeological and anthropological Museum).
DEPARTURES: DAILY

PICK UP TIME FROM HOTEL: 08:30 am - 09:30 hrs - DURATION OF THE TOUR: 4 ½ hours
Our program includes:
MUSEO NACIONAL DE ARQUEOLOGÍA E HISTORIA DEL PERÚ
located in a colonial mansion, former residence of Virreyes and Libertadores. Here the famous stone monuments of the formative period (1000 a.c.), the "Estela Raimondi" and the "Tello Obelisk" are preserved in its various rooms. The most important collections are presented from the pre-ceramic period to the Inca period. We finish this full day tour once you are done visiting the museum.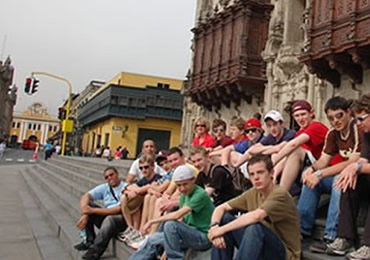 Our program include :

Audio guides.
Pickup from the hotel.
Bilingual service English-Spanish.
Entrance Tickets.
Official guide.
Entrance fees to the touristic attractions mentioned above.
Tourist transport with professional driver.
All buses are fully insured.
First aid kit.
Complimentary headphones.
Does not include:
Any other ítem not mentioned above.
We recommend to bring:
Light clothing.
Sport shoes or hiking shoes.
Photographic camera.
Binoculars.
Sunglases.
Sun Block.
Water.
Repellent.
Not included: Ohters not mentioned.