LIMA 2019
PAM AMERICAN TRAVEL PACKAGES
26th July – August 11th, 2019
Our luxury 2019 Pam American in Lima- Perú travel packages allow you to see the tournament the way you want, from the opening match to the epic final games.
Since 2012 of sports travel experience, including multiple World Cup tours, Lima Travel VIP will take great care to ensure your party is completely looked after every step of the way.
About the Lima 2019 Pam American Games
In 2019,41 national teams from all America continent will converge in Lima for a month-long festival of American Games. The Opening Ceremonies will take place on July 26th 2019, followed by the games and matches running until the closing Ceremonies on August 11th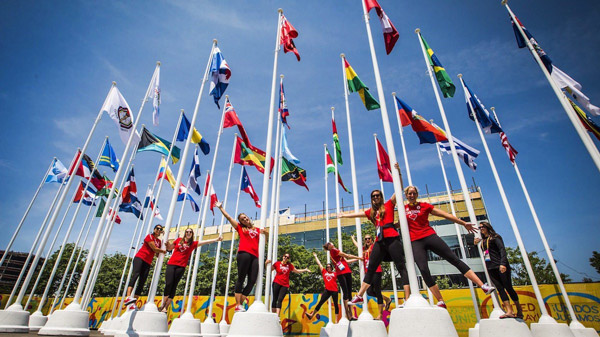 The 2019 Pan American Games, officially the XVIII Pan American Games or the 18th Pan American Games, is a major international multi-sport event that is scheduled to be celebrated in the tradition of the Pan American Games, as governed by Pan American Sports Organization (PASO). The games are scheduled to be held from July 26 to August 11, 2019, in Lima, Peru. preliminary rounds in certain events are scheduled to begin on July 24, 2019. These will be the first Pan American Games held in Peru, becoming the largest sporting event hosted by the country. The Games were held at venues in Lima and other municipalities in the surrounding region. The Pan American Games and 2019 Parapan American Games are being organized by the Organizing Committee of the Lima 2019 Pan American and Parapan American Games (COPAL).
Lima 2019
Pam American Travel Packages Include:
Lima finest hotels
Full breakfast daily
Personalized meet and greet upon arrival
Roundtrip transfers to your hotel
Games and Match day experiences
Dedicated roundtrip stadium transfers
On-site hosts and local assistance
Lima-based services concierge
Commemorative gift package
Welcome kit & Personalized itinerary
Pre-trip concierge services of the Roadtrips At-Your-Service team
All taxes and service charges
| | | |
| --- | --- | --- |
| | Antigua and Barbuda | |
| | Argentina | |
| | Aruba | |
| | Bahamas | |
| | Barbados | |
| | Belize | |
| | Bermuda | |
| | Bolivia | |
| | Brasil | |
| | British Virgin Islands | |
| | Canada | |
| | Cayman Islands | |
| | Chile | |
| | Colombia | |
| | Costa Rica | |
| | Cuba | |
| | Dominica | |
| | Dominican Republic | |
| | Ecuador | |
| | El Salvador | |
| | Granada | |
| | Guatemala | |
| | Guyana | |
| | Haiti | |
| | Honduras | |
| | Jamaica | |
| | Mexico | |
| | Nicaragua | |
| | Panama | |
| | Paraguay | |
| | Perú (host) | |
| | Puerto Rico | |
| | Santa lucía | |
| | Saint kitts and Nevis | |
| | san Vicente | |
| | Surinam | |
| | United States | |
| | Uruguay | |
| | Venezuela | |
| | Virgin Islands | |