DAY 01: LIMA
Reception at the Lima airport. Transfer to your selected hotel in Lima Overnight in Lima.
DAY 02: LIMA - CITY TOUR EN LIMA AND GOLD MUSEUM
Breakfast at your hotel.
You will be picked up from your hotel in Lima by our local guide and then you will join a group of tourist on our bus. We start our City Tour of Lima with a great panoramic view of La "Huaca Pucllana", an old pre-Inca construction dating back to 500 DC. Later on we will head towards the heart of the city to visit its colonial site. Once we get there we will start a gentle walking tour that will take us to see various attractions of the city.

Among them stand out; The Paseo de la Republica (Promenade of the Republic), San Martin Square and the Plaza Mayor (Main Square of Lima), with their different buildings: Government Palace, Archibishop's Palace, the Basilica Cathedral and the Municipal Palace.
We continue our tour at the Convent of San Francisco, which was built in colonial times and still today keeps all the treasures from the Spanish era, including subterranean catacombs. After visiting the centre of Lima we will head to the modern section of this great metropolis and will visit the district of San Isidro, stopping at its Olive Grove. Finally we will visit the district of Miraflores with its nice shopping center named Larco Mar, which was built on a spectacular cliff overlooking the Pacific Ocean. Afterwards you will be conducted to a local restaurant where we will enjoy traditional Peruvian food.
After lunch we will drive to the Gold Museum. The Gold Museum is one of the best museums of Peru, due to its large variety of pieces made especially of gold and silver. One visit to the Gold Museum will allow us to learn about the great skills of our ancient artisans who worked with metals and an array of precious stones. One of the pre-Inca cultures that stand out in the manufacture of jewellery made of gold and other pieces of religious characteristics is the Chimu Culture, which flourished around 1200 AC. During our visit we will be able to see the famous Ceremonial Knife, known locally as The Tumi. It is said that the Tumi was related to the different bloody rituals practiced by this culture.
Another culture that also stands out is the Moche Culture, which developed around 200 AC, and also left behind an important legacy, including a large number of pieces made of gold, many of which are on display on this museum. Among the most spectacular golden artefacts, we will see sandals, nose ornaments, and sets of filigree figures depicting birds, men and monkeys, mantles, bracelets, earflaps, earrings, belts. In one of its galleries, one also can see staggering pieces of gold made by the Inca culture. This great museum also houses a fine collection of Weapons, featuring firearms, swords, and other weapons of war from different parts of the planet, being recognized internationally as one of the best collections of the globe. Finally all our clients are dropped off at their hotels.
End of the tour.
Overnigth in Lima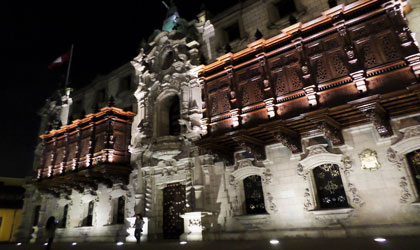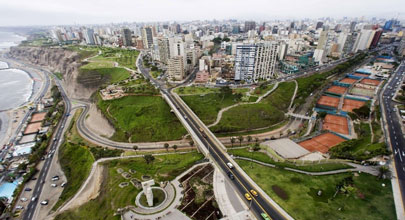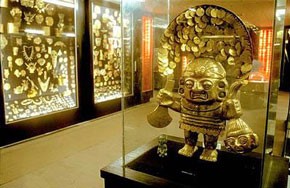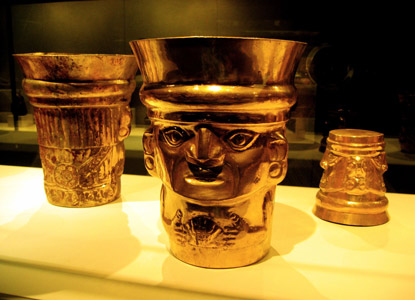 DAY 03: LIMA
Breakfast.
At appropriately time transfer to the airport.
END OF OUR SERVICES
IMPORTANT:
Breakfast of the day will depend on the time of the transfer out from the hotel.
The hours of the excursions will be reconfirmed at the destination.
INCLUDES:
Airport transfer in and out of Lima with private service.
02 noches de alojamiento en Lima con desayunos.
City tour Lima.
Gold Museum Tour.
All entrance Fees.
Lunch in 2nd day.
02 nights hotel accommodations in Lima + breakfasts.
Certified English-speaking guide.
NOT INCLUDED:
International flight.
Airprot tax.
Non-itinerary meals or drinks.
Tips or services not described in the itinerary.