Important: "All our guides use wireless microphones systems connected to the headphones that will be given to our visitors, in this way you will have more freedom to move and enjoy around the attractions without missing our guide explanation "Unique in Lima".
Highlights: Visit Lima, Capital of Peru and gastronomical capital of Latin America, enjoy the world's highest and largest water sources "record güines winner", Musiculinaria experience "Gastronomic and Musical Show of Latin America", visit the Bohemian neighborhood of Barranco.
All Transfers, tours, entrance fee and guides are included.
Selection of hotels according to your decision, experience and budget.
PROGRAMA EN NUESTRA EXPERIENCIA EN LIMA
&nbsp
&nbsp &nbsp &nbsp
Transfer from the Airport- Hotel
Evening City tour Lima + Lima Fountains: 18:00 - 21:00
&nbsp &nbsp &nbsp
Tour Musiculinaria (Cultural and Gastronomic Lima Tour)
&nbsp &nbsp &nbsp
Transfer from the Hotel - Airport or Bus Terminal according to your itinerary
DAY 1.- ARRIVING TO LIMA + CITY NIGHT AND FOUNTAINS
Servicio de traslado de arribo a Lima
At the indicated time, our staff of Lima Travel, duly dressed and with a sign where it is written your name or name that you indicate us, will be waiting for your reception in the International Airport Jorge Chavez or bus terminal, then will transfer you to the hotel that you have selected, The touristic transportation we offer for this service is fully equipped for your comfort, the travel time will vary according to the location of your hotel in Lima.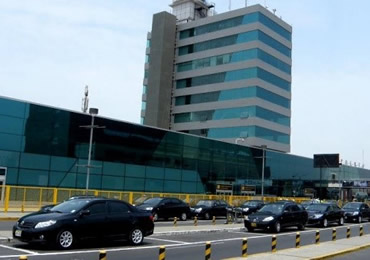 Evening: Lima City Night + Lima Fountains
At the appointed hour our staff will lead you to discover the beauty of Lima, visiting its main architectural monuments beautifully illuminated under the peace and charm of Lima at night. Also enjoy this guided experience to the world's largest font complex, certified by Guinness World Records. Here you can enjoy one of the most attractive places of Lima. "The Magic Water Circuit". Our tour starts with the Historical Center of Lima, where beautiful monuments and amazing colonial buildings will be appreciated, including The Paseo de la Republica, San Martin Square, The Plaza Mayor, The Government Palace, The Archbishop's Palace, The City Hall, among others.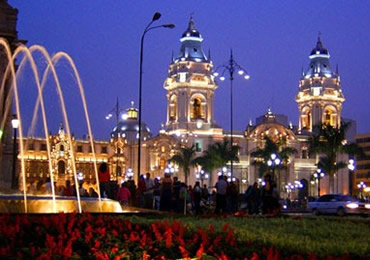 You will be able to make an unforgettable photo session, with all the serenity that Lima at night offers and having as background these magnificent attractions beautifully illuminated. Then visit the incomparable ornamental fountains of water wich powerful jets combine with the rhythm of classical music, and the spectacular lasers are mimicked with water fluids drawing multicolored shapes that make us fantasize for a few minutes with a cyber future.
This center of the water park is a joint of more than a dozen fountains, each with its own display of geysers that drive the water up to more than 80 meters in height. With respect to these peculiar characteristics, we can tell you that this park is a winner of the Guinness Record as "The Wold Biggest Magic Water Circuit" or the World's largest Fountain Complex, a very important prize for the pride of the Peruvians. Here you can enjoy a wonderful spectacle of water, light, music and images, presented in the famous Parque de la Reserva, one of the most beautiful urban spaces of our Lima Tour.
DAY 2. Tour Musiculinaria
Peruvian gastronomy is a celebration of Peru. A country with a millenary tradition and a promising future that does not lose sight of its roots and where the art of good eating stands out among its inhabitants as one of the most distinctive signs of their identity. The city of Lima has been declared the gastronomic capital of Latin America thanks to the breadth and exquisiteness of dishes approved in a decisive way by the most prestigious chefs and specialists in the subject.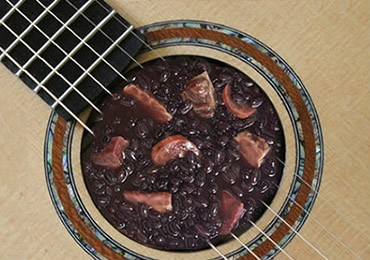 Tour in Lima:
Discover the secrets of the gastronomy and Peruvian music accompanied of a show of talents with Lima Travel. Our adventure begins since the moment we pick you up from your hotel at 15:00 hrs, then we will head to Barranco's Bohemian district. During this trip we will be able to enjoy the architecture of the neighborhood of Barranco as the bridge of the sighs between other emblematic places.
After that we will visit a "Huarique Limeño" exclusive secret place of flavors and tradition of Peru ", in this place we will have chance to taste exquisite dishes and the most representative desserts of the Peruvian gastronomy accompanied of an impressive artistic show that combine the music with the gastronomy during the preparations.
Day 03: Hotel check-out and Transfer to the Airport
Breakfast include
Transfer to the airport and assistance for boarding by our staff of Lima Travel.
End of our service.
Include::
Transfer Airport - Hotel - Airport
All entrance tickets
Tourist Transport
Bilingual professional guide Spanish-English
Tasting of gastronomic preparations in Musiculinaria
Live Music Show at Musiculinaria
Hotel according to your selection.
Not Include:
Tips
Alcoholics Drinks
Others not mentioned in the program